Actor Keaton mixes up two Brad(ley) Coopers, tells funny late-night TV story
By Raiza Giorgi
publisher@santaynezvalleystar.com
Getting names mixed up happens, but having your name mixed up with a famous person doesn't happen all that often. For Buellton-based custom saddle maker Brad "Cash" Cooper, it happened when his famous client Michael Keaton accidentally confused him with the actor Bradley Cooper.
The story started when Keaton, known for his title-role performances in "Beetlejuice" and "Batman," contacted the well-known saddle maker to create a custom saddle for his horse.
"I took a deposit from Mr. Keaton and then didn't hear from him for several months, so I figured he got busy and then he contacted me to tell me this funny story about his messages with Bradley Cooper," Cooper said.
The story was so funny Keaton ended up telling it on a recent appearance on "Late Night with Seth Meyers" while promoting his role in "The Protege" and reprising his role as Batman in "The Flash."
Keaton says he contacted the saddle maker because he wanted to have something custom-made. The actor says he isn't an extravagant person, but decided to treat himself to a new saddle to use on his ranch in Montana. After speaking with the saddle maker, he then started emailing him to convey what styles he liked and sizing for the saddle horn and was getting strange responses.
"'Yeah, okay. Ha, ha!' with an exclamation point right," he said to Meyers.
After a while, Keaton said, he would check in again and get a "Sure, whatever," response and Keaton wanted to get the saddle wrapped up and got back a response, "Who is this?"
"What are you talking about 'Who is this?'," Keaton said.
Keaton came to find out he had been corresponding with the actor Bradley Cooper, not the saddle maker Brad "Cash" Cooper.
"I thought that was pretty funny," Cooper the saddle maker said with a laugh. "After we got straightened out and all the details sorted through, that saddle turned out to be one of the best ones I've done."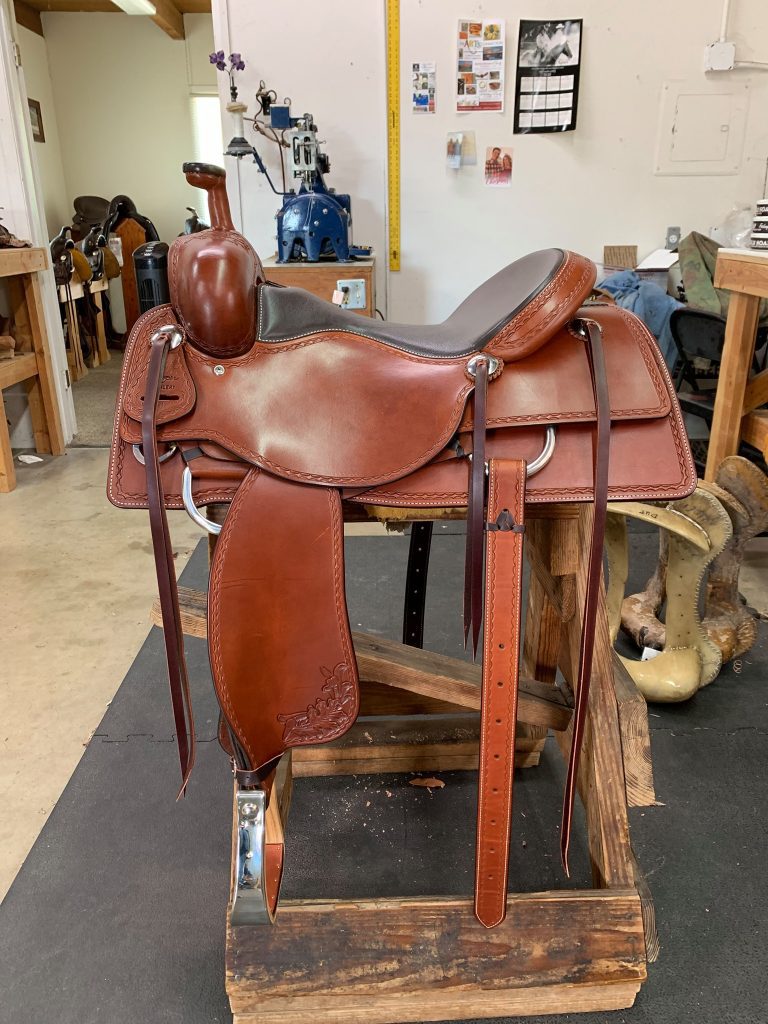 "Cash" Cooper started working with leather at the age of 12 when his father gave him a leather bag making kit.
"I loved it so much and kept making things until I had to get a job to buy a pickup, so I decided to make it my job," he said.
There was a saddle shop down the street from him in Dublin, Texas, owned by Wendy and Calvin Allen. Wendy is known as the "Queen of Saddles" and Cooper worked in her shop for four years apprenticing and learning the trade.
"I covered stirrups every day for a year," he said. "Few people got to actually go into the saddle shop, and when I finally got to go through those doors I knew it was a big deal to work with Wendy."
Cooper added that his learning happened before the likes of YouTube, and he learned his craft the old-fashioned way: By reading books and studying under legends in the industry.
Cooper then moved to Austin, Texas, and worked for the Steiner family at Capitol Saddlery. The business has one of the most iconic buildings in the area, with the cowboy boot in lights on the side of the structure, and has a long history of first being a firehouse, then a world famous saddle and boot making shop owned by rodeo star T.C. "Buck" Steiner.
"I was fortunate work for the Steiner family and learn from their leather craftsman as well," Cooper said.
He ended up going to a management training school, which offered an opportunity to manage Tandy Leather in Ventura.
"When I went to rent a moving truck, the guy looked at me funny and said 'Are you sure you want to move to California?'," Cooper said. "I think it cost me $30 to rent the truck because a lot of people move the other direction."
So, in February of 2011 he moved to Ventura and two years later moved to Buellton to open his own shop, Cooper Saddlery.
Cooper said it takes him about a month to make a saddle from start to finish. The longest he's worked on a saddle is 90 days straight.
"Some people give me free rein and others want to be involved in every step of the way, which is great too because I want to make sure people love what they get," Cooper said. "Saddle making and all leather work is more than just cranking out the same thing over and over, it's an art to me."
Cooper added working with Keaton was fun because he got to send him samples of designs and almost ran out of scrap leather before Keaton chose a design that Cooper thought he wouldn't like at all.
As COVID-19 hit, he said it allowed him time to catch up on all the orders backlogged, but after fixing almost every saddle in the Valley just about, Cooper slowed down and decided he wanted to ride more and play with his music group, the Cash Cooper Band.
"I love the Santa Ynez Valley. It has allowed me to grow my craftsmanship and be a singing cowboy which I've always wanted," Cooper said. "I even joined the wrangler team at The Alisal earlier this year, so on the weekends I get to show people around the ranch and ride too."
Cooper has also expanded his business to teach people how to work with leather and does classes regularly. Follow his Instagram page to learn when more classes will be offered this fall and winter.
"My girlfriend Sarah and I also have a falconry business and we do horse training on our little place 'Thunder Cloud Ranch,'" Cooper said. "I love being busy."
To see more of Cooper's work visit either his Facebook or Instagram page.