By Laurie Jervis
Contributing Writer
Diners in the Lompoc Valley have gotten a taste of Santa Barbara County's revered Industrial Eats when a co-owner of the Buellton site opened Eye on I in late winter.
The new eatery is located at 131 N. I St., former home of The Beach, which had closed prior to the COVID-19 pandemic, according to Eye on I chef and co-owner Jeff Olsson.
Current hours are noon to 8 p.m. Wednesday through Sunday, but Olsson will eventually open daily. He's applied for a license to serve wine and beer, but in the interim diners are allowed to BYOB/W.
Olsson noted that while Eye is "not an Eats No. Two," there are some similarities — the unique and flavorful pizzas, garlic-laden Caesar salad, and vegetarian or meat entrees.
"Customers (in Lompoc) are adventurous" when it comes to trying new food, he said. "I am amazed at how well we've been received; people have come up to me and expressed their gratitude for Eye being here."
Olsson and his staff vary Eye's menu based on what's available from the farmers and seafood providers from whom they buy: They've offered fresh oysters, a bone-in New York steak and pork belly pizza.
"People are just game for the food," he said.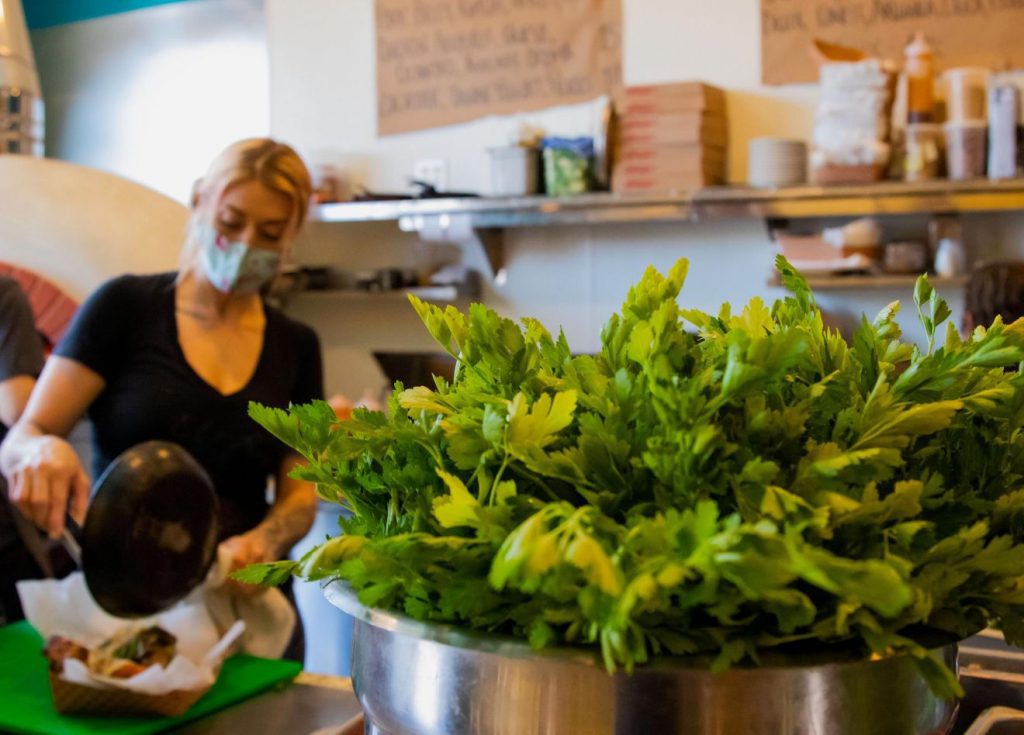 How Olsson and his partner and co-chef/co-owner of Eye, Heather Hovey, came to create the Lompoc eatery is a story of success during a year when many restaurants collapsed under the weight of the pandemic.
"My longtime electrician, Joey White, is Amber White's husband; Amber owned The Beach," Olsson said. After she closed her site (well before the pandemic), Amber White inquired if Olsson would take over the space, which included a wood-fired oven, he recalled.
"I liked the idea of not having to build out the space," he said.
But he hesitated — why open a second restaurant during the early months of a global pandemic? His employees at Industrial Eats had just "jumped onto unemployment — they saw what was coming" as soon as Gov. Gavin Newsom announced California's first shutdown on March 19, 2020, he said.
So Olsson waited, and kept Industrial Eats afloat utilizing a skeleton staff that prepared only take-out meals.
"The pandemic hit the entire restaurant industry so hard," he said. He pointed to world-renowned restaurants in Los Angeles, New York, London and Paris that are struggling to entice back both customers and their employees, who either bailed on the industry altogether or collected unemployment for the duration.
Today, Eats still has "very low staffing" — 15 people, down from 45 on staff before the pandemic — and Olsson hopes to continue to ramp back up. When we spoke in late April, Eye was up to six employees, including Hovey, he said.
Olsson still co-owns New West Catering, which he founded in 2000 with his former wife, Janet Olsson, as well as Industrial Eats, and event bookings are increasing.
The 8-year-old Buellton establishment is comprised of the main restaurant, the "Grand Room" for events and a take-out only site. The public is staring to reach out again regarding space for rehearsal dinners; "we have bookings in September and October," he said.
In Lompoc, he plans to work with the nearby Cold Coast Brewing on West Ocean Avenue, whose opening was delayed by the pandemic but whose owners are eager to open, he said.
"I'll craft food to pair with their beers, down the line," he said.
Olsson started his culinary career in kitchens at age 15 and honed his skills under some of the nation's most prominent chefs, including Mark Miller, Dean Fearing and Bobby Flay. He served as executive chef at Miller's Red Sage in Washington, D.C, and later as chef at Restaurant Nora, the first U.S. site to be certified organic.
Olsson also opened Firestone restaurant in Buellton after having catered for the Firestone family, he said.
Laurie Jervis tweets at @lauriejervis and can be reached via winecountrywriter@gmail.com. The opinions expressed are her own.