By Serena Guentz
Contributing Writer
Hundreds of people gathered at Solvang Park on June 19 to enjoy music, food and dancing during Santa Ynez Valley's second annual Juneteenth celebration presented by Madi's Treasure Box. It was one of Solvang's first public events after COVID-19 restrictions were removed across the state earlier in the week.
The holiday celebrates the day Union soldiers arrived in Galveston, Texas, with the news of freedom for enslaved people on June 19, 1865, marking the true end to slavery, two and a half years after the Emancipation Proclamation was signed.
This year marks 156 years since that day.
Juneteenth was recently officially recognized as a federal holiday with a bill President Joe Biden signed into law on June 17.
"For us, Juneteenth, in which Black citizens were freed, finally, is one of joy, jubilation, family, friendship, good food, good music," said Vashti Wilson, CEO of Madi's Treasure Box. "We look at it as a time that we're able to celebrate each other and love without fear of reprisal or fear of abandonment or fear of being taken away from our loved ones."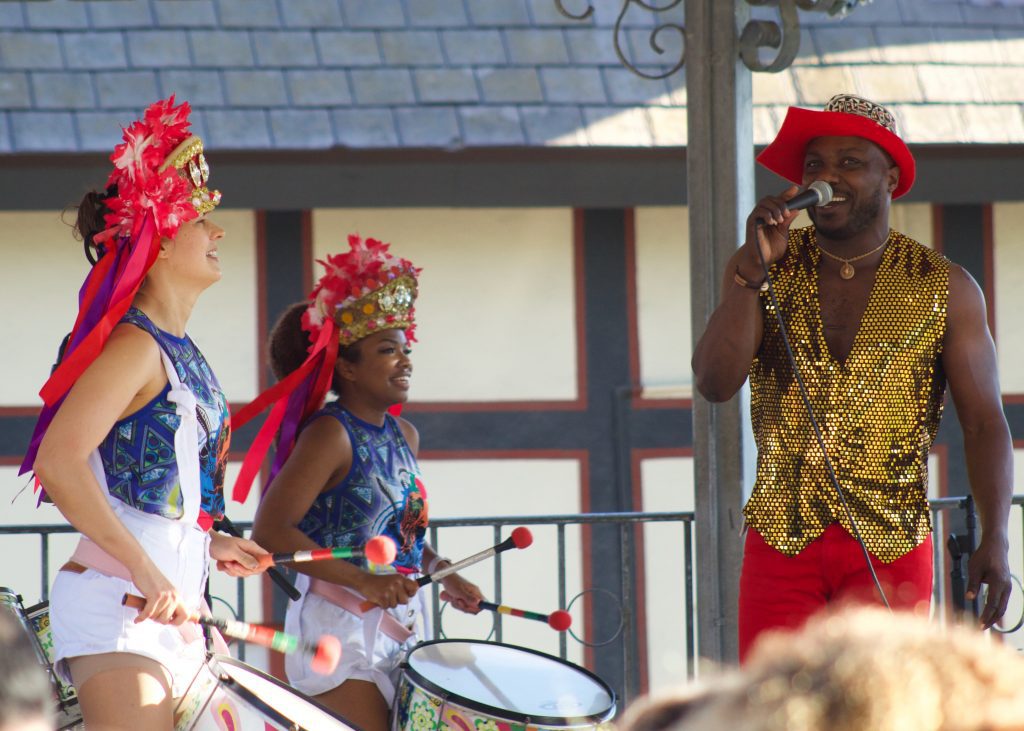 Madi's Treasure Box, created by now 9-year-old Madison Wilson and her mother Vashti, is a nonprofit organization raising money to send packages — Madi's Treasure Boxes — to schools, foster care centers, hospitals and libraries with multicultural art supplies and diverse books in order for all children to see themselves represented.
Madison even created her own line of World Changer multicultural crayons that were released last November with several skin, hair and eye colors.
"At this point, [Madison] has raised almost $100,000," Vashti Wilson said. "She has partnered with numerous nonprofits. They are actually guiding her to not only donate all of these resources to schools, libraries and hospitals, but also to implement ongoing training that will allow people to successfully integrate multicultural tools into their classrooms."
The event featured performances and demonstrations of maculele stick dance and capoeira martial arts from the Brazilian Cultural Arts Center of Santa Barbara, as well as performances by the Afro-Brazilian Banda Alegria Geral, featuring Mariano Silva, and the Santa Ynez Valley Jazz Band.
Capoeira is a martial art form that is a mixture of fighting, dancing and music, developed by enslaved people in Brazil to disguise the fact they were practicing fighting techniques.
Today, capoeira is still practiced as a game, sport or art to learn about the Brazilian tradition and culture.
Guests danced along with the music, enjoyed catered Southern-style meals and dessert from High on the Hog, and relaxed on the sunny park lawn.
Wilson said that High on the Hog provided the catering as a donation for the Juneteenth event.
A lemonade stand and a face painting and glitter tattoo booth were also available to children during the event.
Santa Ynez Valley People Helping People also sponsored the Juneteenth celebration and Wilson said that People Helping People also covered the costs for the event.
"Without any reservation, [People Helping People] said 'how much do you need?' and they footed the bill because they thought it was integral to the community to have this," Vashti Wilson said.
Adriana Reyes, who has recently been named People Helping People's first diversity, equity and inclusion program director, discussed the importance of Juneteenth and how the organization's diversity, equity and inclusion program is working to diversify school's curriculums and create a safe space for everyone despite differences.
"[Juneteenth] was not taught to me during school or high school. This has to change," Reyes said. "Our history, the good along with the bad, must be recognized and must be taught to our children … We celebrate Juneteenth not just by being with family and friends but by telling our stories and pursuing true validity and justice in all that is owed."