Star Report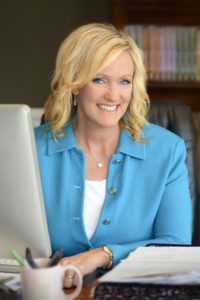 Karen Kingsbury – Photo contributed
Former Los Angeles Times reporter and New York Times Bestselling Author Karen Kingsbury, will share a message of hope and faith at 4 p.m. on Sunday, September 11, as part of the Santa Ynez Valley Presbyterian Church Second Sunday lecture series.
Kingsbury worked as a sports and feature writer for the LA Times in the late 1980s. Today she has more than 25 million copies of her award-winning books in print and several of her novels have been the subject of recent record-breaking Hallmark original movies. Kinsbury's bestselling Baxter Family series is in development by Mark Burnett, Roma Downey, and MGM Studios as an upcoming television series. Kingsbury is also a sought-after nationally renowned speaker, frequently sharing how people have one chance to write the story of their lives.
The theme for the evening is, "Let me tell you about my God."
"I want you to laugh and cry and remember why faith and family are so important," Kingsbury said of her upcoming Santa Ynez talk. "I've been looking forward to this event for a long time. We will share a very special evening, and walk away closer to God and each other."
Kingsbury and her husband, Don, raised six children – three of whom were adopted from Haiti. This fall their youngest child, Austin, left for Liberty University in Virginia – where all of their boys have attended. Their oldest child, Kelsey, 27, is married to Christian recording artist Kyle Kupecky. Kingsbury and her family live in Nashville, Tenn.
To accommodate Karen's travel schedule, this Second Sunday program will begin at 4 p.m. in the church sanctuary. Admission is free. Doors will open at 3:30 p.m. for early seating, with live music by Alan Satchwell and The Band of Brothers. During the program, the singing of three of Kingsbury's favorite hymns will be accompanied by Satchwell and led by baritone Bill Malloy.
At the conclusion of the program, a reception will be held in the Welcome Center, across the patio from the sanctuary.  Several of Kingsbury's books will be available for $10 each, with profits going to her own adoption charity, the One Chance Foundation. Kingsbury loves meeting and greeting her readers and will be available for book-signings and photos. Root beer floats will be available at the reception.
The Valley Presbyterian Church is located at the corner of Alamo Pintado Rd. and Baseline Ave. in Solvang. Ample parking is available adjacent to the sanctuary.