Jordan Kepler's Headhunter Axe helps him become big winner on History Channel program
By Pamela Dozois
Bladesmith Jordan Kepler is the "Forged in Fire" champion in the season 8, episode 9 of the History Channel television series.
"Forged in Fire" is a show where world-class bladesmiths recreate historical edged weapons in a unique competition. Four contestants are pitted against each other in three challenges.
Bladesmithing is the ancient art of making knives, swords, daggers and other blades using a forge, hammer, anvil and other smithing tools as well as woodworking for knife handles. Bladesmiths employ a variety of metalworking techniques like those used by blacksmiths.
"I've followed the show on the History Channel for a few years, and when the host of the show, Grady Powell, put out an email blast asking for auditions, I decided to try out," said Kepler. "I did a show-and-tell with them in February of last year and then waited for a phone call to let me know I had been accepted. I couldn't tell anyone what I was doing until the episode neared airing on February 17, 2021. It was filmed in October 2020.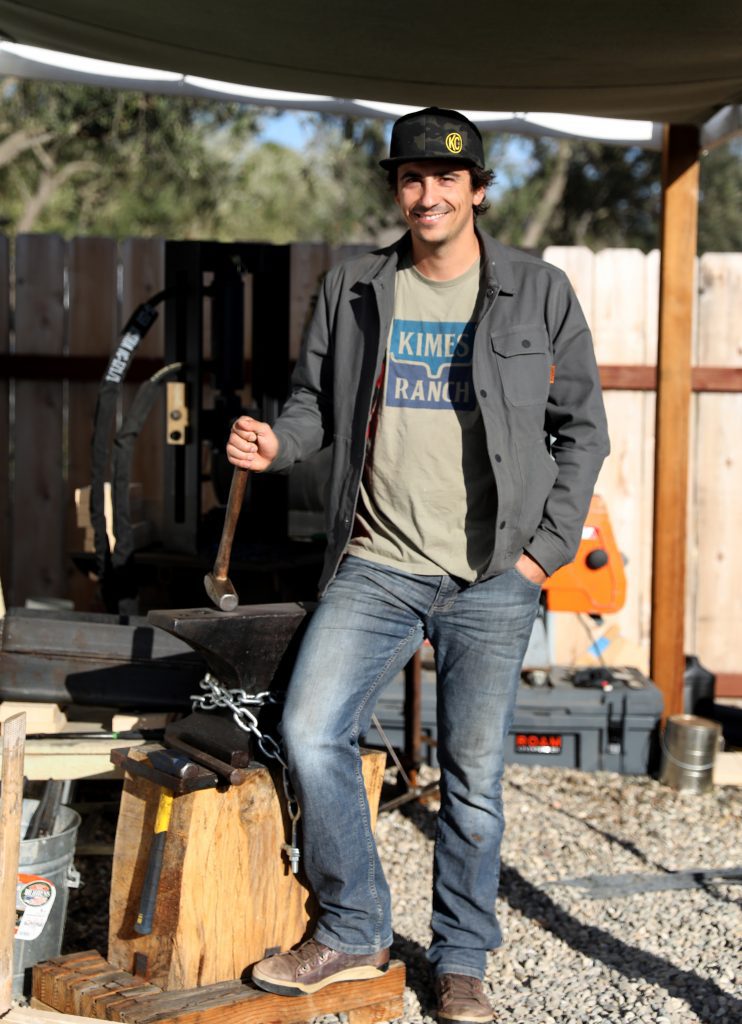 "The first challenge was to create the steel portion of a knife in three hours," Kepler explained. "At the end of that period, I had already forged a recurved Bowie knife. We then displayed our knives to the panel of judges — J. Neilson, Doug Marcaida and David Baker — showing them what we had completed thus far. Based on the look and integrity of each knife, one person was then eliminated.
"In round two we put a handle on the blade and sharpened it," continued Kepler. "The blade was then tested by the judges for strength by striking it as hard as they could into a metal clock. The blade was then smashed into rubber tubing in order to see if the blade held its edge through the strength test. Then another contestant was eliminated. In round three, the two remaining contestants were sent home to create a new blade, which in this case was an historical Filipino weapon called the Headhunter's Axe.
"I had three days to create the whole thing at home in my forge," Kepler said. "The weapons were then sent back to the film studio where on the final day of filming our weapons were once again tested for their strength, sharpness and their killing abilities, the latter of which is tested on a gelatin test dummy."
Kepler's axe was made of Damascus steel, which is recognizable by the watery or wavy light and dark pattern of the metal. His opponent made his out of 80CRV2 steel.
"We were both neck-in-neck during the kill test. On the strength test my blade went clear through the cattle skull and bamboo rods while my opponent's axe handle broke on the very last swing," he said. "At that point the judges called it a 'catastrophic failure' and I was awarded the title of 'Forged in Fire Champion' and received a check for $10,000. The hardwood I used for the handle of my axe came from Nielsen's Building Materials – it was a nice, long, straight piece of maple."
Kepler said he'd always had a fascination for building things ever since he was a child. After building various forts and such in Aptos, California, where he grew up, he attended Cal Poly San Luis Obispo studying industrial technology.
Cal Poly was where he learned every facet of metal work: casting, grinding, welding and machining.
"But the one thing you weren't allowed to make on campus were knives," Kepler said.
After graduating with a bachelor of science degree in industrial technology, he took a job as a graphic designer for a company in San Francisco, where he is still employed. Once he acquired his own place, he started collecting metalworking tools and machines of his own.
"I made my first big camp knife and my buddies really liked it and they all wanted one," he said. "I started making a few more of them and more friends were interested in having one, and now Ihave a small one-man company. I make survival knives and custom Damascus camp knives."
Kepler makes his knives through his business, Lost Sasquatch Provisions.
"To make a Damascus knife you start with alternating types of steel which looks like a big rectangle basically," Kepler explained. "Then the rectangle is put into a forge which is approximately 2,300 degrees. Once it is glowing yellow you forge the rectangle into a long thin bar. Then you start to hand forge it by hammering it into the shape of a knife followed by a crazy amount of grinding and hand sanding which finally produces a blade. Forge welding multiple layers produces the watery effect characteristic of this type of Damascus steel. Then you get into some woodworking for the handle."
Kepler said the competition was quite a challenge.
"I was extremely surprised to be the winner of "Forged in Fire" because the competition was fierce," he said. "I had no clue who was going to win or who would hold out. I was stunned when the handle on my opponent's axe broke but that's when I knew I had won the competition.
"I have to say this has been a crazy time for me," said Kepler. "My fiancé, Kat Devine, was my greatest cheerleader and supporter through this whole thing. She kept telling me I could do it and she kept me calm and motivated while I was freaking out over which weapon they were going to ask me to make."
Kepler and Devine, who are high-school sweethearts, are planning a June 2022 wedding.
To see Kepler's episode and competition, visit the History Channel (play.history.com) and click on the "Forged in Fire" series.
For more information on Kepler's company, visit lostsasquatch.com.