Staff Report
Local 76-year- old cyclist Neal Abello recently became a member of the French Club des Cinglés du Mont-Ventoux, translated as the "Club of the Mads of the Windy Mount."
To earn the special jersey and certificate of achievement, he had to make three ascents — from the three base towns of Malaucene, Bedoin, and Sault — in one day. This amounted to cycling 80 miles while climbing a total of 15,600 feet with an average grade of approximately 7 percent. He was required to stop in each of the towns to have his official card stamped and also at the summit at 6,214 feet.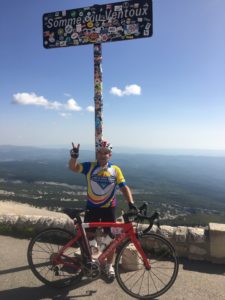 "Making the triple ascent up Mt. Ventoux was one of the most awesome and spectacular things I've ever done on a bicycle," Abello said.
The Bedoin route is part of the Tour de France, considered the hardest of the major French and European passes.
Abello did intensity interval training for several months prior to this trip. He made sure that he had plenty of electrolyte drinks and protein gels to fuel the climb. His wife, Emmy, provided a Coke at each of the summit stops.
While Abello was competing at this year's Senior Games in St. George, Utah, a 91-year-old bike racer friend, Link Lindquist, challenged him to climb Ventoux . Link holds the record of being the oldest to go up the mountain at age 86, having done this a total of four times. Only 216 Americans have accomplished the feat out of 13,000 world-wide riders.
The Ventoux climb was part of a bike tour through vineyards and ancient villages of the Vancluse area of Provence. Link and his partner, Kathy, have been leading trips for 15 years. The area resembles the Santa Ynez Valley in terms of weather and flora. Neal did the tour on a regular bike, while Link, Kathy, and Emmy used electric bikes.
Neal Abello leads local bike tours for Santa Barbara Wine Country Cycling Tours, based at Dr. J's bike shop in Solvang.