Staff Report
"SYV Stories," a new local podcast about community and purpose in the Santa Ynez Valley, quietly launched last month but is quickly gaining interest.
Hosted and produced by Solvang resident Tamara Rowles, each episode features an in-depth interview with a member of the community who has contributed something significant to the valley or has an interesting story to share about its history.
"When we moved to the valley a few years ago, for the first time I understood what it meant to be part of a close-knit community. The valley has a rich history and so many people have contributed to our way of life. Between the cowboys and ranchers, the Danish community, and the farmers and vintners, there is no shortage of interesting stories to tell," Rowles said.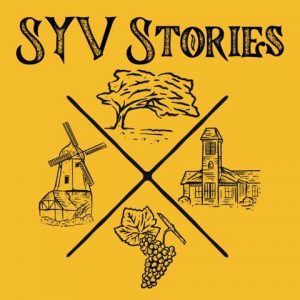 The podcast's first few episodes are available for listening now, with many more planned for future publication. In Episode 1, Rowles interviews distinguished resident Allan Jones, who has lived in the valley nearly all his life and volunteers with many local community service organizations. Episode 2 features the Santa Ynez Valley Star's publisher Raiza Giorgi, who shares how she started the Star and her passion for reporting local news.
In Episode 3, Rowles interviews Pastor Chris Brown, who discusses his first call and his future plans for Bethania Lutheran Church.
Rowles is a former attorney who now runs hospitality and membership programs at Dovecote Estate Winery, the Los Alamos vineyard and ranch formerly owned by the Thompson family. She started the podcast as a means of making her own small contribution to the community. 
"My family is not a part of the valley's long and rich history, but I have a talent for asking questions and I can help record the stories of the people who are. I have always loved listening to podcasts because when I hear somebody tell their story in their own words, I am reminded how we are more alike than different and how we are all connected in some way. That connection is only amplified in a small community such as ours," Rowles said.
Rowles recently sat down with Claire Bettencourt to discuss her family's nearly 100-year history on the Old College Ranch and the valley's first commercial vineyard, which she and her husband Boyd planted in the 1960s. 
"Mrs. Bettencourt showed me pictures of her family standing in front of an old adobe home over 90 years ago and her husband planting their very first vine. Her fascinating story is part of the valley's history." 
As listenership grows, Rowles intends to interview more guests who have ties to the valley going back generations as well as passionate community leaders, volunteers, and elected officials. Each episode is between 30 and 45 minutes long. New episodes are released approximately every two weeks.
To listen to SYV Stories, search "SYV Stories" on your phone's podcast app (Apple, Spotify, Google, or your favorite podcast app) or go to www.syvstories.com. Rowles welcomes comments or recommendations for future guests and may be contacted at syvstories@gmail.com.