Jen Curtis of Los Alamos is an 'independent dog rescuer' who fosters canines waiting for a forever home
By Pamela Dozois
Contributing Writer
Jen Curtis, a resident of Los Alamos, has had a heart for animals in need since childhood. As a child growing up in Maine, she said she used to pick up neighborhood cats that she thought were homeless and bring them home.
"So, when I brought the cats home, my mother would say that they probably had homes of their own and that I needed to find out where they lived," said Curtis. "From childhood, I was always wanting to help sick cats in need. Turns out I'm allergic to cats, so I went without any animal in my life until a friend of mine gifted me with a dachshund named Greta."
In 2014, Curtis said she recognized the plight of homeless dogs in need of rescuing. So, she started fostering rescues. At first she focused on dachshunds and dachshund mixes.
"Shortly after bringing in a friend for Greta, I began fostering dachshunds who were looking for forever homes," she said. "I began with dachshunds and it slowly developed into fostering all breeds of dogs.
"I fostered and then adopted Hudson who was going to be euthanized because he had kennel cough. Then I started doing more. I adopted a cocker spaniel who a delivery guy in Bakersfield had seen someone throw out of a truck and it just went on from there."
At present Curtis is an independent dog rescuer, but she is in the process of filing for a 501(c)3 nonprofit status. The name of her rescue will be LE WOOF, but for now she is doing this work as an independent dog lover.
"The word got out that I am interested in rescuing dogs, so people started calling me about animals in trouble," said Curtis. "My journey is to find every dog a forever home."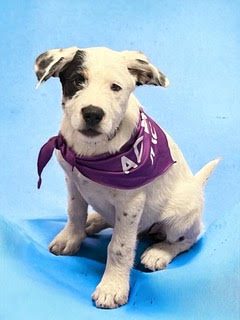 A board member from the Santa Ynez Valley Humane Society and Dog Adoption Welfare Group (DAWG) asked Curtis to help with some fundraising and shortly after that, she was asked to join the Board of Directors and she said that she pretty much spearheaded fundraising for them.
"After two years of helping raise funds for the Humane Society I realized that I preferred to focus on things I could control and make a bigger impact," she said.
When COVID hit, Curtis started doing more fostering and pulling dogs out of high-kill shelters in Los Angeles County and helping Santa Barbara County find homes for their dogs in need while at the same time continuing to foster.
"I formed a relationship with a rescue group in Oregon who agreed to take 12-15 dogs a month from overcrowded shelters in Los Angeles and Santa Barbara counties. On a monthly basis I have to raise $2,500 to pay for their transport to Oregon alone," she explained. "Between pulling dogs for the Oregon transport, raising funds for their transport, pulling dogs that I foster myself along with finding them homes and networking with a team of fosters who help with this work, well, I have to say, it is more than a handful. I host fundraisers, GoFundMes, adoption events to get dogs adopted, and continue to pay for spay and neutering, vaccines, and medical care. I also drive to wherever a dog needs rescuing. This weekend I am off to Ventura to rescue a dog in need. This is a lot to handle on top of having a full-time job in software sales, but it's worth it."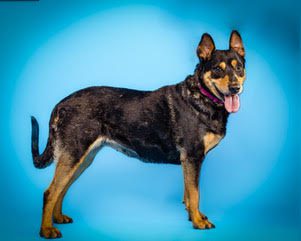 Although Curtis began by focusing on a particular breed, she has widened here efforts considerably.
"Currently I focus on all dogs in need, not breed or age specific, but I have a soft spot for senior dogs and medical dogs including hospice dogs," she said. "I have pulled a few end-of-life dogs from shelters and gave them love and medical support until they passed including my very social boy Ziggy who I had for 7 months before he passed away.
"In my opinion, shelters are no place for a dog long-term, let alone for a senior dog. Currently we have small, medium, and large dogs of all ages available for adoption."
Curtis said that shelters are overflowing with adoptable dogs, some of them even pure breed.
"People are dumping their dogs in record numbers in shelters, in deserts, in fields, wherever," she said. "The number of homeless dogs is the worst it has ever been due to backyard breeders and not spaying or neutering animals or people who find their animals inconvenient and dump them because they don't want them anymore.
"I will continue to do foster care and rescue and ask people to foster, raise money and find loving homes for as many of these deserving dogs that I can. The community of Los Alamos and the Valley and Santa Barbara County residences have been so supportive of the work I do along with help from friends, volunteers, and fosters. I am grateful to the businesses that have allowed me to host adoption events such as Forage Floral, Full of Life Flat Bread, The Well, Priedite Barbecue, and Bell's, to name a few."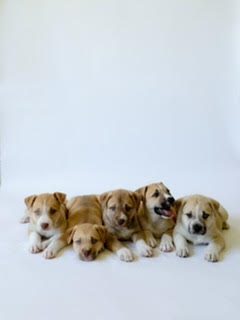 Curtis is always looking for fosters, volunteers to walk dogs, weekend puppy or dog foster flings, puppy socializers and people willing to transport.
"Fostering is easier than you think, long-term or short term," she said. "Volunteering to walk a dog daily helps the primary caregiver take a break and is a big help or raising money to care for these animals; truly, every little bit helps. I know fostering can be a little heart-breaking when you have to say goodbye to an animal you've cared for, but you just have to overcome that feeling and be happy that this animal has found a new forever home and you've helped make that happen. I will have over 12 puppies available for adoption by the time this article goes to press, so, if you are looking for a puppy to adopt or want to foster one or more of them, give me a call."
To enquire about helping in any way including fostering and volunteering, email beaheroforadog@gmail.com or call (781) 640-2926.
If you can't adopt them by the bunch, how about taking this little fellow home.