By Linda Johansen
Contributed
Photos Contributed 
A small group of adventurous travelers recently enjoyed a fabulous trip to New Brunswick, Nova Scotia and Prince Edward Island.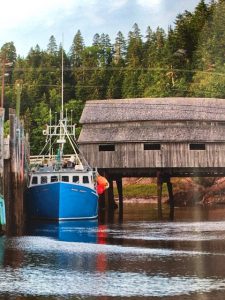 Exploring Canada's Maritimes with all their rugged and pristine beauty was a bonus in addition to learning about the Acadian and Gaelic culture.
We enjoyed Halifax and the surrounding areas, especially Peggy's Cove, which is one of the most picturesque spots in all of Canada with a historic lighthouse. Halifax was also very instrumental in helping to recover the victims of the Titanic. They have a wonderful museum and cemetery honoring the victims that were brought back to Halifax by the local fisherman.
We visited Millbrook Cultural and Heritage Centre learning about the Mi'kmaq heritage and Glooscap artifacts with intricate quill and beadwork. We traveled on the Canso Causeway to stunning Cape Breton Island and drove by the pristine shores of Bras d'Or Lakes, Canada's only inland sea. We enjoyed the Gaelic College and all the demonstrations, including kilt making, with our very own Sami Salem as the model draped in beautiful tartan fabric in different styles of manly kilts.
We enjoyed hiking on the Cabot Trail with its rugged terrain and spectacular vistas of the Atlantic Ocean. We visited the famed St. Peter's Church in Cheticamp followed by a picnic lunch in Cape Benton Highlands National Park and we thoroughly enjoyed the Alexander Graham Bell Museum which was fascinating as well as so informative with impressive artifacts.
After a fun ferry ride to Prince Edward Island, we experienced a culinary boot camp learning how to shuck oysters and then all competed for the best recipe for mussel stew. The team from Solvang came in second place with the head chef voting for our recipe. The winning recipe substituted a chipotle ingredient which was the only differing ingredient from the Solvang recipe.
Prince Edward Island and its rolling landscapes are the backdrop of the acclaimed novel "Ann of Green Gables." The Ann of Green Gables Museum was fascinating and run by the family of the author. The family did personal signings for all of the books as well. We also visited Cavendish and Prince Edward Island National Park which boasted incredible and pristine beaches.
We left beautiful Prince Edward Island crossing the Confederation Bridge into New Brunswick. We hiked in Fundy Bay experiencing the very low tides and the famous Hopewell Rocks which are iconic in New Brunswick. These flowerpot-shaped rocks rise four stories high at low tide and are carved by the Fundy tides that change drastically several times a day. Boats are literally dry docked in the sand wherever they have been moored. The tides are legendary and it takes less than 30 minutes on a beach for the massive tides to go from your toes to chin level. We arrived at Saint John after our tide hiking and enjoyed a two-night stay in that bustling waterfront area.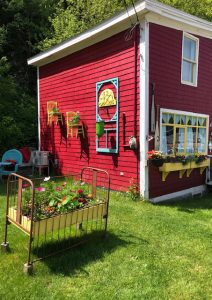 The following morning we hiked the awe-inspiring Fundy Trail with the most breathtaking vistas. We stopped for lunch at a world famous restaurant by the beach in the Bay of Fundy enjoying a traditional Maritimes lobster feast getting lessons on how to crack and eat lobster like a local. Leaving Saint John we boarded a beautiful ferry and made our way to Nova Scotia. We drove the bus right on the ferry and all went upstairs to enjoy the views and to play backgammon and Left, Right and Center.
Arriving in Digby, Nova Scotia, we made a stop at the UNESCO World Heritage Site, Grand-Pre National Historic Site which shares the complex history of the Acadian people, the proud descendants of the indigenous populace of the region. We explored the small fishing village of Mahone Bay and made our way along the beautiful Lighthouse Route toward Lunenburg for a walking tour and shopping excursion and demonstration on how beautiful Amos Pewter creations are made.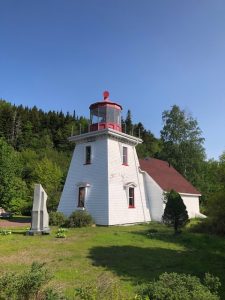 We also explored the Fisheries Museum of the Atlantic before heading back to our hotel for a farewell dinner. It was a wonderful adventure and everyone agreed that New Brunswick, Nova Scotia and Prince Edward Island Canada were well worth visiting again.
The commission from this trip was donated to the Elverhoj Museum of History and Art. Future adventures will be Santa Fe during the holidays in early December, Treasures of Egypt with a three-night post tour in Jordan in May, Machu Picchu with a three-night post Amazon tour in June, and Discover Southern Italy and Sicily in October.
Video presentations of each trip will be held at Bethania Lutheran Church Parish Hall at 6:30 p.m. on Sept. 25 for Egypt, Nov. 6 for Machu Picchu, and Feb. 19 for Southern Italy and Sicily. To RSVP for any presentation or to receive a brochure call Linda Johansen at 805-686-1644. The commission from each trip is donated to a local nonprofit organization.