Community program that began in Seattle reborn at Cachuma Lake
By Serena Guentz
Contributing Writer
While COVID-19 has forced many businesses and programs to close, a local community rowing program at Cachuma Lake started and has been operating entirely under the pandemic.
Whether young or old, completely new to the sport or Olympic-hopeful, Mission Rowing has room for everyone.
Mission Rowing's staff originally worked together in Seattle as Seattle Rowing Center for nearly 10 years, but when their leased property was sold, they needed to find a new location.
When they could not find anything affordable in Seattle, the team decided to start Mission Rowing at Cachuma Lake in September 2019, although programs and camps officially started in April 2020.
Mission Rowing currently uses UCSB's dock, but the program recently got permission to build their own dock on the lake.
Mission Rowing's staff consists of President and Executive Director Carol Nagy, head coach Conal Groom, who has been coaching for about 27 years, and headmaster's coach Derek De Leuw, who has been coaching for about 10 years.
"I love it at Cachuma," Nagy said. "I feel like I landed in paradise."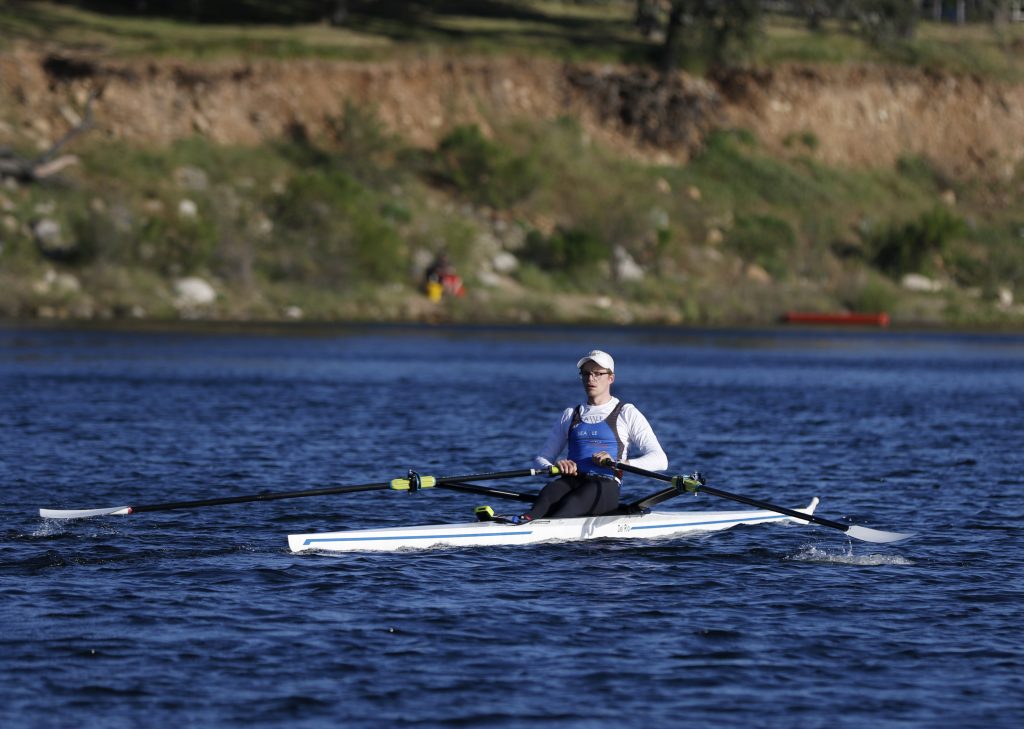 Nagy said that part of what makes Cachuma Lake so nice compared to Seattle is that there is no water skiing and limited boat traffic.
Mission Rowing offers youth summer camps, as well as Learn to Row sessions for adults, programs for middle school and high school students, and master's and high-performance teams.
With the high performance team, head coach Groom works with many young athletes training for national teams and competitions, such as the World Rowing Junior, Under 23 and Senior Championships, as well as the Olympics.
Groom said multiple students he is currently working with will be trying for national teams this summer.
"Conal [Groom] is the best coach," said 16-year-old Kat Lord-Krause. "He really cares."
She is one of many of Groom's high-performance students from Seattle that followed to continue training with him at Mission Rowing.
Lord-Krause is in her sixth year rowing and she said that her high school in Seattle is still under remote distance learning, which has allowed her to continue practicing with Mission Rowing.
Another student who moved to Santa Barbara from Seattle to continue training with Groom is 25-year-old Sophia Denison-Johnston who has been rowing for 12 years. Groom said she recently returned from participating in the U.S. Olympic Team Trials in Sarasota, Fla., where she placed fourth with fellow Mission Rowing athlete Sophie Heywood.
Nagy said that many of their students in Seattle have gone on to attend Ivy League schools with full-ride scholarships.
"His passion is high performance, but he is also really good with the middle schoolers," Nagy said of Groom.
While the master's and high-performance teams mostly consist of high school, collegiate and adult athletes, Mission Rowing coaches and trains people of all ages.
One student in the master's class is 12 years old and the middle school program teaches kids in sixth through eighth grade, with another student in fifth grade.
"As long as the kid can focus enough during the practice," said master's and middle school coach De Leuw.
Nagy also said she's noticed an increasing amount of older adults who rowed in college or before moving to the Santa Barbara area who are excited to start rowing again.
Although Mission Rowing has been able to operate and continue programs during the pandemic, it has still had to comply with COVID-19 restrictions.
Since beginning, Mission Rowing was limited to singles in one-person boats only, but with Santa Barbara County's advancement to the less-restrictive orange tier on April 20, the programs have been able to begin incorporating doubles in practices.
Mission Rowing has also not been able to participate in many competitions yet, as the pandemic has caused most competitions to be cancelled. Nagy said that they are hoping to start competitions again this fall.
Nagy also said that she believes Mission Rowing is great for kids during the pandemic, especially the high school and middle school students who have been in remote distance learning for over a year.
Everyone in the Mission Rowing staff has expressed excitement for the future of the program and rowing in the Santa Barbara area, being the first community rowing program in the county.
More information on Mission Rowing and its programs can be found on its website at missionrowing.org.