By Pamela Dozois
The Buellton Arts & Culture Committee has erected a new art exhibit by contemporary artist and sculptor Joe Castle.
The installation is located on the grassy median on Avenue of Flags in Buellton. It features five sculptures, in figurative form, honoring wounded warriors and the sculptor's personal introspective journey. The exhibit is an effort on the part of the city of Buellton to enrich the artistic experience for residents and visitors alike. Castle, a Buellton resident, has been sculpting for 36 years.
"I've been working on this series, "Intimate Stranger," for 10 years," said Castle. "Stacey Glasgow Kiss, a volunteer on the Buellton Arts & Culture Committee, suggested I apply for a grant to display my work. When I applied for the grant from the committee I proposed that we show the sculptures on Avenue of Flags and that it was in honor of wounded veterans."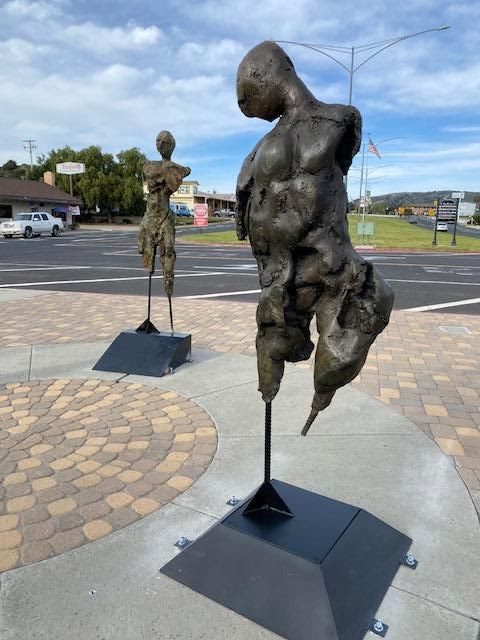 Castle said his series was inspired by a visit to the Walter Reed Hospital about 10 years ago, visiting as a prospective commissioned artist, which did not materialize. He came away from that experience profoundly moved. He saw men and women in the process of healing themselves mentally, physically and emotionally.
"It hit me hard," Castle said. "There were prosthetic appendages everywhere.
"A Good Friday service was being held in the chapel at the hospital, so I decided to drop in and pay my respects," he continued. "The sermon, which spoke about redemption, was so moving that I had to leave and collect myself and get home to start on this project."
Castle used those experiences to create his works.
"'Intimate Stranger' embodies the tension of opposites," Castle explained. "This series is a progression of sculptures that examined my private world, which was initiated by a visit to Walter Reed Hospital and the passing of my father. There I saw our veterans' task themselves as they came to terms with their disabilities.
"The result was for me to look inward and reflect on my fear of being intimate with myself — an unpleasant and unfamiliar world I pursued with reluctance," he continued. "It is in these waters that I found an unanticipated admission to the emotions that I anxiously repressed. The work provided for me an inner sanctuary."
Castle explained how he used his statues to tell a story.
"By going back to the human form, I could tell my story in a way that could reveal to the viewer a broader understanding of my conflict of going inward," he said. "By exposing the armature and muscle strands and using texture and disproportion, I could evoke powerful emotions such as those that we feel through suffering or when dealing with matters of life and death."
"I created a space that provides a refuge for the sensitivity of the soul," Castle said. "Here, what is personal became universal, and the viewer is moved past language to participate indirectly and emotionally. It is the viewers' role to interpret and finish the workfor themselves."
After graduating from the University of Colorado with a bachelor's degree in history and English, Castle moved to Pennsylvania where he was mentored by Myron Barnstone, a globally acclaimed artist who taught classical drawing and painting at his studio in Coplay, Pennsylvania.
"Myron was as tough as nails on me, but he was also like a father figure. I had a one-man show at his studio," said Castle. "Then I moved to Idaho to hone my sculpting skills. I've shown my work throughout the United States and in Canada."
Castle has taught sculpting, physical education, special education, and tutored. He considers the three best times in his career were teaching metals class at Midland School, teaching outdoor education and teaching at his old high school.
"I have been very fortunate in my life," Castle said. "I love teaching and I love art and so far I have been lucky and blessed to be able to do both."
"Sometimes the disabilities you have become your greatest assets, indeed gifts," he concluded. "We may not be able to recognize them ourselves, but we owe it to each other to see each other. These vets are coming home, and we aren't even looking at them, never mind seeing them. We owe it to ourselves and to each other to see and be seen, especially at this time."
Erected in early March, "Intimate Stranger" is a temporary installation and will be taken down after Labor Day, "unless someone wishes to purchase it." It may also travel around the valley and may appear at St. Mark's Church in Los Olivos.
For more information, visit www.castlesculpture.com or email josephlcastle@me.com.