Hometown: Solvang … I was even born at the hospital in Solvang!
Occupation: Senior Recreation Coordinator
Family: Husband Jeff, daughters Campbell, 10, and Carter, 7.
Favorite movie: "Sixteen Candles"
Favorite Book/Author: "Girl Wash Your Face" (I rarely have time to read and this just happens to be the last book I read and I happened to like it.)
Favorite Music/Musician: Garth Brooks
Hobbies: Camping, boating, sports (or in my case lately, watching my daughters play sports), gardening, working out/being outdoors hiking or running, coaching/volunteering, and tackling DIY projects around our house.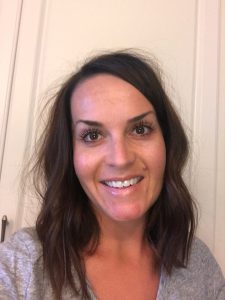 Your Bio in One Paragraph: Born and raised in the valley. Attended Solvang Elementary and Santa Ynez High School. Growing up I spent many hours at my parents' store, The Sports Barn, along with staying active in the community and playing various youth sports. I attended Chico State University with a BS in Recreation Administration, which landed me at the city of Solvang as a senior recreation coordinator for the last 11 years in my dream job: creating fun! My husband Jeff and daughters Campbell and Carter enjoy camping, boating at Lake Nacimiento and spending time with both of our extended families, who live in the SYV. My husband and I have passed our love of sports on to our daughters and you'll find us on the soccer fields, basketball courts, track or watching the dance stage cheering or coaching our girls on!
How I believe I have made an impact in the SYV: I like to think my volunteerism. I do love to help a good cause. If you ask my husband, he will tell you I volunteer more than I am home! I teach my kids that if we all help a little bit, many hands make for lighter work. Together we can accomplish so much!
Pet Peeves: Flat tires (as in someone following too closely and slipping the heel of your shoe off) and negative people! You get one life, why not make every day a positive one?
Road to the Santa Ynez Valley: Fortunate to grow up here but after college I knew I wanted to raise a family here. When I reconnected with my high school crush after college we planted our roots here and happy our daughters will have the same experience growing up in the SYV as we both did.
Favorite Place in the Santa Ynez Valley: The top of Grass Mountain — absolutely beautiful!