By Raiza Giorgi
publisher@santaynezvalleystar.com
Early election results are showing that the 3rd District race will be over as Third District Supervisor incumbent Joan Hartmann is well over the 50 percent plus one required to automatically be reelected. These results are not final until certified by the Santa Barbara County Elections Office.
As of 9 a.m. Wednesday, Hartmann is at 52.26 percent with 8,253 votes. Challengers Bruce Porter was at 35.71 percent with 5,640 votes, and Karen Jones at 6.57 percent with 1,037 votes. The fourth challenger Jessica Parfrey received 5 percent of the vote even after she suspended her campaign.
"While I await the final certified results of the election, I am honored and humbled by the unofficial results. I am proud of the campaign that we ran based on integrity and my record of service," said Hartmann in a statement to the Star.
"Moving forward, it's right back to work. Today, I'm in a Board meeting for Central Coast Community Energy, that will soon be delivering fossil free electricity to Santa Barbara County next year. I am excited to continue my service to the people of Santa Barbara – in particular enhancing economic vitality, housing opportunities, public safety, the clean energy economy, and parks and open space," Hartmann added.
The Third District represents the Santa Ynez Valley as well as other areas from Isla Vista to Guadalupe.
In the congressional races, incumbent Salud Carbajal will face Andy Caldwell as they were the two top vote getters for the evening. Carbajal was at 54.73 percent with 40,375 votes and Caldwell was at 40.98 percent with 30,231 votes.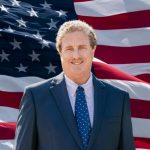 "We are very happy with the returns. We knew it would be a challenge taking on a career politician getting into the race as late as we did. We are also proud that upwards of 99 percent of our financial support came from within the district. We will continue to build a grass roots coalition of dems, npp and republican voters who want to put the needs of the district ahead of partisan politics," said Caldwell.
He is a well-known conservative watchdog, and is the founder of the Coalition of Agriculture, Business and Labor organization that represents more of the agricultural community.
"It is an honor to serve our 24th Congressional District and stand up for our values in Congress each day. Based on the results we're seeing, I'm proud that it seems Central Coast residents want me to continue fighting for those values in Congress. I thank everyone for voting and urge our community to keep this momentum up come November," Carbajal said.
For the State Senator 19th District seat, incumbent Monique Limon (D) won 56.17 percent with 40,675 votes and will face Gary Michaels (R) as he earned the number two seat for November with 38.84 percent with 28,122 votes.
Check back for updates to this story.