Research by Ann Dittmer and Esther Jacobsen Bates for the Elverhoj Museum of History and Art
Solvang is known for its Danish architecture and the iconic windmills that add Old World charm to the townscape. Though the windmills are primarily decorative, they are inspired by Danish windmills of an earlier era that used wind energy to grind grain to flour.
So how did Solvang come to have four Danish windmills within four blocks? And two more mills in residential areas?
The first of Solvang's windmills — and the only working mill — was built in 1922 by early Solvang settler J. C. (Charles) Wulff. It would become the forerunner of the town's Danish mills.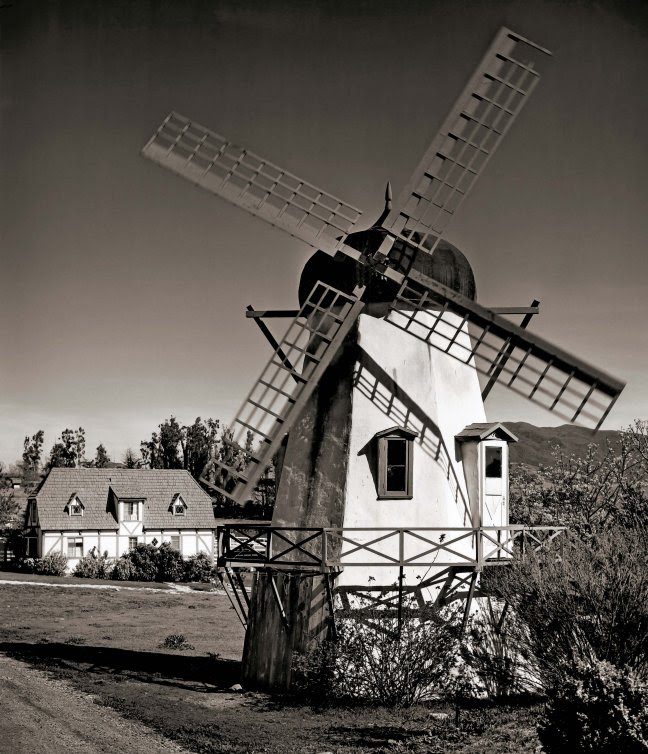 Wulff's windmill is an adaptation of European and American designs seen throughout the Midwest and West. It was originally used to pump water and grind grain for livestock and poultry on his 270-acre farm in Fredensborg Canyon.
Although no longer a working mill, Wulff's Windmill was named a County Historical Landmark in 1980. It underwent an extensive restoration in 2019 and stands near the end of Fredensborg Canyon Road as an enduring reminder of Solvang's early days.
A quarter of a century after Wulff started building his mill, the town's first Danish style windmill appeared. Ferd Sorensen, a local craftsman with a well-established love of all things Danish, built a windmill next to his residence in 1946.
Sorensen's mill, located at the eastern edge of the downtown on what was later named Old Mill Road, appeared to have all the workings of a real windmill from Denmark, including moving sails. Inside, however, was a residential apartment.
By 1957, a widespread architectural makeover of Copenhagen Drive was underway. It was part of the movement to create more "scenic value" for the increasing number of tourists coming to experience the town's Danish culture. That makeover included adding three windmills to the downtown landscape in the following 10 years.
The first of the downtown mills was built in 1957 when Borge and Mimi Andresen decided to add a windmill to their Danish Inn restaurant on Mission Drive. The mill was designed from a photograph and constructed by Solvang craftsman and building contractor Johannes Jaeger and his crew.
The second downtown windmill, with the local mountains as a backdrop, is probably the most photographed site in Solvang. It was commissioned by Ray Paaske for a lot next to Copenhagen Square on Alisal Road and completed in 1962.
The design was inspired by a mill on Zealand, near Copenhagen in Denmark. It was also built by Jaeger with ironwork sails made by local blacksmith Kris Klibo. These sails can actually turn in the wind.
The third mill, known as the Blue Windmill, was constructed in 1964 at the corner of Copenhagen Drive and Second Street. It was designed by Earl Petersen, an enthusiastic supporter of the town's architectural conversion, and built by contractor Paul Nielsen.
Each of these three downtown windmills house local businesses and, although not functional in the traditional sense, add to the Danish charm beloved by residents and visitors alike.
The fourth downtown windmill is a more recent addition, and a smaller scale version of a Danish mill. It stands in front of the Kronborg Inn on Mission Drive at the western entry to Solvang.
Although the four windmills in downtown Solvang are primarily decorative, they are a reminder of what can be achieved by harnessing the power of wind.
Windmills are something old in the landscape — and something new as California looks to a future with renewable power and energy-efficient methods of capturing the wind.
The Elverhøj is honoring Solvang's founding in 1911 and its 110th anniversary using the theme "Skål Solvang — Celebrating 110 Years of History & Culture." This is the early fall installment in a year-long series of emails highlighting community milestones. Visit www.elverhoj.org for more information.