Student speakers talk about fear and failure, outside perspectives, and tackling the future at Commencement
On the first evening of June, Santa Ynez Valley Union High School's newly renamed Rio Memorial Field had a different look: A large stage with a "2023" sign in lights and video boards on either side of it, not to mention '80s rock music blaring from the portable speakers facing the stands. The appearance took on the air of an imminent rock concert.
However on this evening, the "rock stars" would be the 170 SYHS seniors about to graduate in the school's 2023 Commencement ceremony.
In front of an enthusiastic crowd of family and friends, the senior class heard addresses from three of their fellow students, Principal Michael Niehoff (who last month announced he would not be returning next year), and Santa Barbara County Teacher of the Year Gregory Wolf, who would later play a rendition of Pink Floyd's "Wish You Were Here" for the crowd.
The soon-to-be graduates filed out of the SYHS gym toward the stagefront seats to the tune of the traditional "Pomp and Circumstance" at around 7 p.m., a later start for the ceremony than in previous years.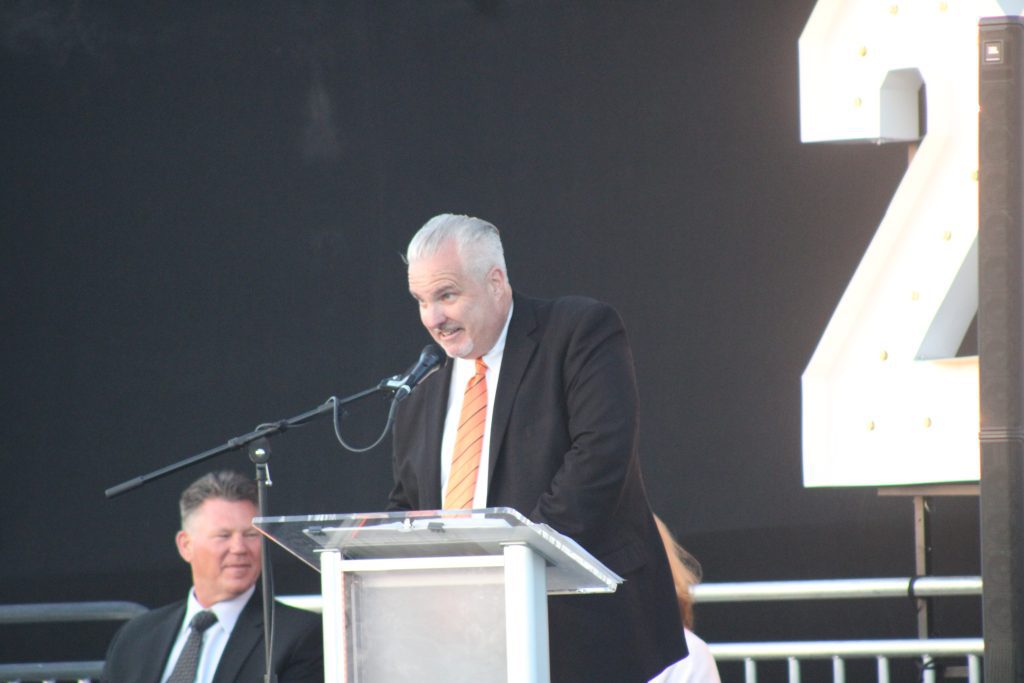 After everyone was seated, Rye Winans came up to the stage and led everyone in the Pledge of Allegiance, which was followed by the national anthem, sung by Opal Ray.
After a welcome address from seniors Natalia Contreras (in English) and Ada Degollado (in Spanish), Niehoff announced two special recognitions. The first was that a seat that was set aside by the Class of 2023 for Connor Graciano, whose death as a ninth-grader kept him from being in the Class of 2023. The second announcement was that senior Zoe Kazali underwent life-saving heart transplant surgery over the weekend.
"[She] is already impressing her doctors at Children's Hospital Los Angeles with the strength that makes her such a valuable member of our community," Niehoff said. "We're thinking of you, Zoe Kazali."
The principal then went on to list the graduating class' achievements.
"The Class of 2023 has produced 33 graduates of the highest honors, 25 CSF lifetime members, 35 National Honor Society members, 39 are receiving the Golden State Seal of Merit Diploma, and 19 have earned their California State Seal of Bi-literacy," Niehoff said, also pointing out that the senior class had received over $200,000 in scholarship awards.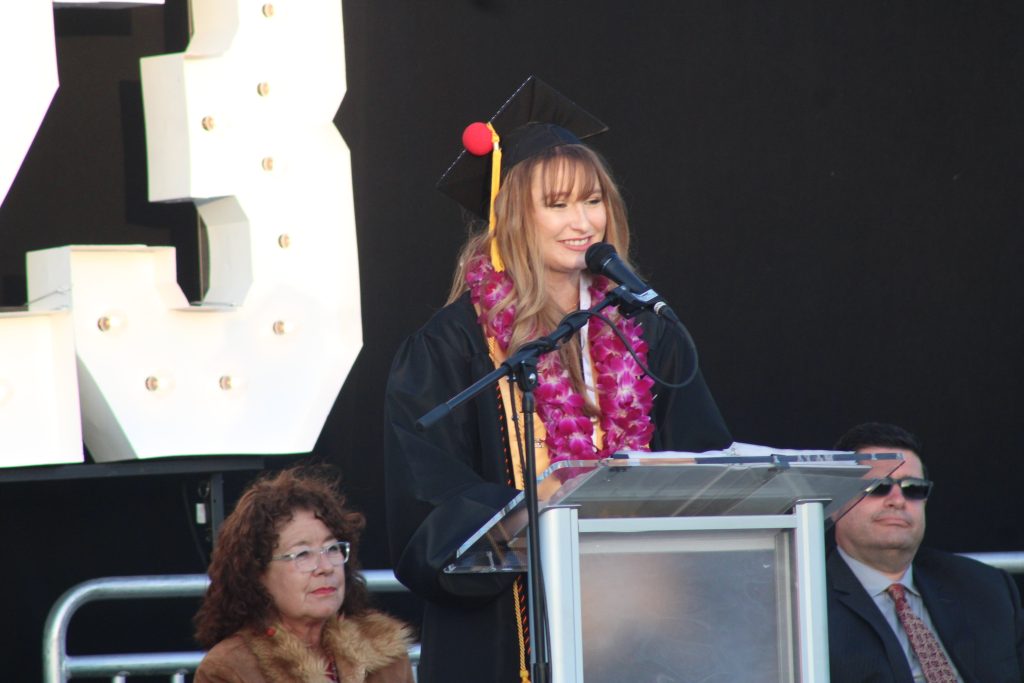 Elle Arvesen was the first student speaker for the Commencement and her speech touched on the theme of fear and failure, touching on her theater experience to explain how she dealt with it.
"One thing I have learned is that I will fail; I will fail over and over again," she said. "I have forgotten lines; I have embarrassed myself trying to make people laugh, I've struggled to find myself in the different roles I portray.
"However, every time I have failed, I have learned from the failure and continue to do what I love to do. I have persevered."
It was that perseverance that Arvesen said carried her and her classmates through some tough times.
"I applaud my classmates for their perseverance through one of the most difficult times of our high school experience, and maybe our lives, the COVID-19 pandemic," she said. "Overwheling feelings of anxiety and fear plagued us as the news blared behind us reporting on tragedy upon tragedy.
"After what felt like forever, we finally arrived at the end of this dark time, ready to tackle the rest of high school, and we did it."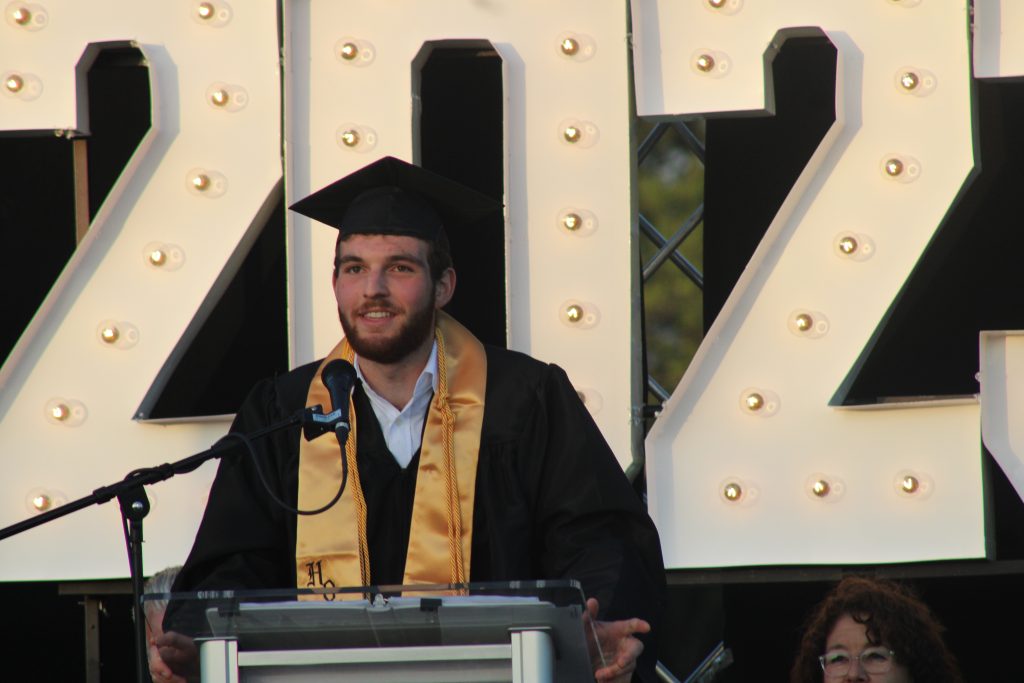 The next speaker was Nathaniel Keating, who spoke of his feelings of being an "outsider," because he moved to the Santa Ynez Valley just a few years ago, into an area where everyone had lived their whole lives, it seemed.
"I was someone who didn't feel wholly a student here," he said. "I came to the Valley three years ago, the summer before my sophomore year. I had trouble accepting this opportunity because I felt someone more representative of the area should be up here, but due to a few people encouragement and guilt tripping, now I am here."
Eventually, Keating said, he had a different viewpoint of his "outsider" status.
"In retrospect, I believe my late arrival, my outside perspective, was one of the most valuable parts of my early time at this school," he said. "It made me appreciate what I'm now a part of."
Keating went on to say that although he appreciates the Santa Ynez Valley, it can be a bit of a "bubble."
"Sometimes, you need to enter a new environment to spark change, and to provide the opportunity to appreciate what one has always had," he said. "My experience as an outsider looking to join your community pushed me to change and adapt in ways I wouldn't have otherwise and made me recognize what I left behind.
"It's my hope that my classmates, as we take charge of the coming shifts in our lives, emerge better from them, and appreciate all the Valley has to offer."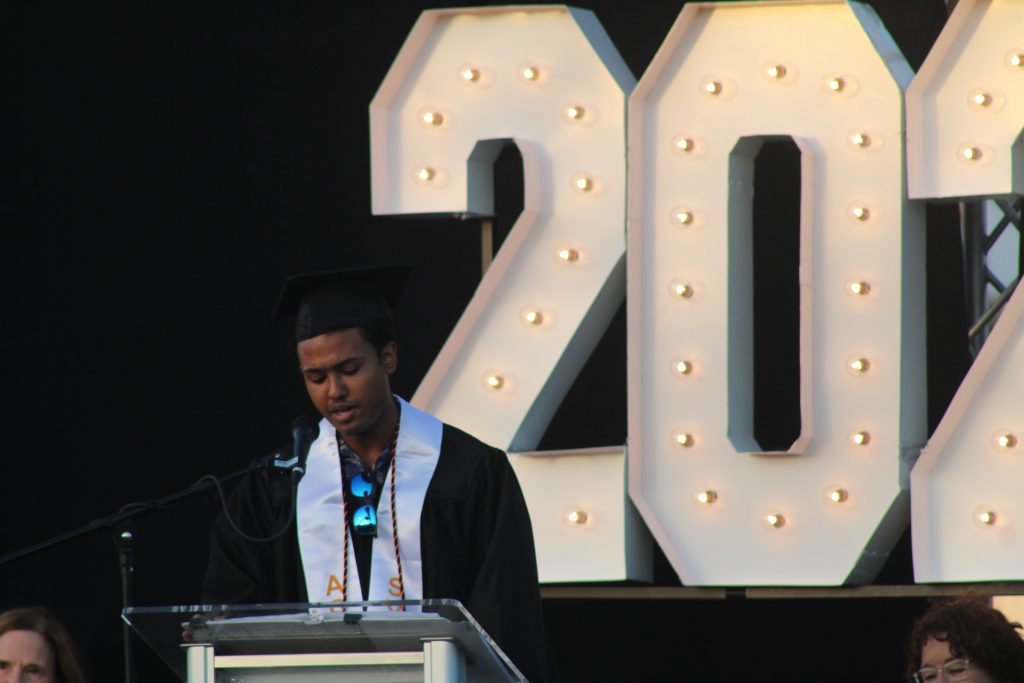 Senior Class President Matteos Damanias was the final student speaker, and in his speech he stressed the importance of looking toward the future.
"The best time and worst times of your life, the highest highs and lowest lows, they're all behind us," he said. "It's easy to be overwhelmed by this — the realization of things we've done and choices we've made; our greatest successes and gut-wrenching regrets, but it's all locked into the past."
Damanias informed his classmates that now high school is done, the decisions they make is now up to them and them only.
"Is this it? Is this the end of a chapter of our lives?" he asked, and then answered, "Some may see it that way, but I've always hated that analogy. The rest of your life isn't like a book; the next few chapter aren't written down for you in any way. I prefer to think in this leap of faith, we are not taking a step, but after 12 years of learning how to fly, we're finally putting our wings to use."
Before the students were handed their diplomas, Niehoff, in his last address as the school's principal, gave his viewpoint on how different generations view each other — mainly how older generations look at the younger ones.
"Ever since I became an educator 30 years ago, I have all too often heard adults speak ill of students," he said. "For example, I had heard too many times how young people are lazy. It almost seems like each generation misrepresents or misunderstands the next generation."
Niehoff went on to recite many common complaints he's heard, while encouraging the graduates and audience members to say "We disagree." The principal's hypothetical statements of today's young people being "lazy," "selfish," "irresponsible" were all met with yells of "we disagree" from the graduating class.
In closing, Niehoff urged older generations to respect and appreciate the accomplishment of the next ones, and urged his graduating class not to fall in the same trap of looking down at the next ones themselves.
"Don't let your peers put the younger generation down," he said. "They might be different, but they're not worse."