SYV Star Report
A lecture by philosopher, author, and activist Bernard-Henri Lévy titled The Genius of Judaism will be free to the public on Saturday, January 14, at the UCSB Campbell Hall. A limited number of free copies of Lévy's new book, The Genius of Judaism, will be available at the event while supplies last. A selection of his books will be available for purchase and a signing will follow the talk.
For more than four decades, Bernard-Henri Lévy has been one of the world's great moral voices, championing causes from Bosnia to Africa's forgotten wars, from Libya to the Kurdish Peshmerga's fight against the Islamic State.
An intellectual maverick, Lévy has morphed into a master philosopher, journalist, activist and best-selling author. An advocate of ethics and justice, he broke ground as the leader of the New Philosophers in the 1960s. Maintaining his outspoken streak of activism, he served as a war reporter extensively covering the Middle East and Afghanistan. He has written more than three dozen books, including American Vertigo: Traveling America in the Footsteps of Tocqueville and Who Killed Daniel Pearl? His 1977 book Barbarism with a Human Face launched an unprecedented controversy over the European left's complicity with totalitarianism. His writing has appeared in a wide range of publications throughout Europe and the United States.
Lévy's cultural commentary, novels and journalism have gained such widespread attention that The Guardian stated he is "accorded the kind of adulation in France that most countries reserve for their rock stars." Vanity Fair has referred to Lévy as "a superman and prophet: we have no equivalent in the United States" and The New York Times has remarked, "Bernard-Henri Lévy does nothing that goes unnoticed. He is an intellectual adventurer who brings publicity to unfashionable political causes." In 2009, Foreign Policy magazine ranked him 31st among the 100 Top Global Thinkers.
The event is part of UCSB Arts & Lectures series, and is presented in partnership with the Sophia Taubman Foundation Endowed Symposia in Jewish Studies.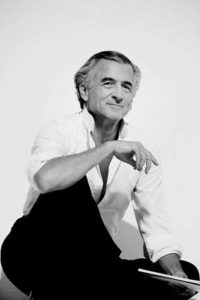 Bernard-Henri Lévy, photo by Ali Mahdavi