Star Report
Acclaimed author Dan Flores will give a presentation about the wily, four-legged subject of his most recent book, Coyote America: A Natural and Supernatural History,  on Tuesday, January 31st at 7:00 p.m. in the Legion Wing of the Veterans Memorial Hall, located at 1745 Mission Drive in Solvang.
Coyote America is a New York Times Bestseller and has been praised by the Wall Street Journal as "a masterly synthesis of scientific research and personal observation".
While frequently seen in Santa Barbara County, and increasingly found even in urban areas across the country, the coyote remains a mysterious animal with its uncanny night howls, unrivaled ingenuity, and amazing resilience. Dan Flores' Coyote America explores multiple aspects of this ubiquitous mammal, Canis latrans, including its preeminent role in Native American culture as trickster and genius, and its incredible survival story during the last 200 years.  Despite many and varied campaigns of annihilation, coyotes didn't just survive, they thrived, expanding across the continent from Anchorage, Alaska, to New York's Central Park.
Dan Flores, a resident of New Mexico, is the A. B. Hammond Professor Emeritus of Western History at the University of Montana and the author of ten books and numerous essays and articles on various aspects of western U.S. history, including natural history, environment, art and culture of the West.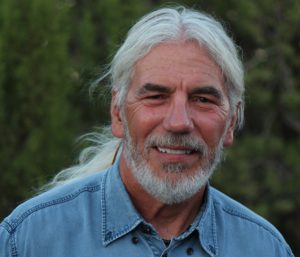 This free lecture is presented by the Santa Ynez Valley Natural History Society and the Solvang Library. A list of upcoming lectures and field trips sponsored by the Society can be found at www.syvnature.org . Donations are much appreciated; they help defray the cost of presenting lectures and films. Look for a donation box near the entrance to these events.
For More Information:  Carey McKinnon, 805-688-4214
(Headshot of author Dan Flores by Sara Dant)