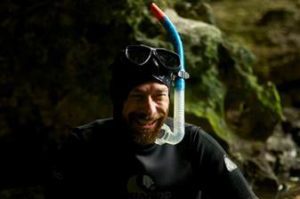 "I don't believe in setting boundaries or firm expectations. Those are just limitations."
– Kenny Broad
UCSB Arts & Lectures presents underwater cave explorer and environmental anthropologist Kenny Broad delivering a National Geographic Live multimedia presentation, The Risky Science of Exploration, on Sun., Jan. 8, at 3 p.m. at UCSB Campbell Hall.
Underwater cave explorer and environmental anthropologist Kenny Broad has participated in extreme scientific filmmaking expeditions on every continent, from chasing venomous snakes across Vietnam to plunging into ancient subaquatic caves in the Bahamas. His explorations have led to important discoveries about early human inhabitants, animals seen nowhere else on Earth and the planet's climate history. Join Broad, a UCSB alumnus, on an adventure into some of the most dangerous and scientifically significant places on Earth as he laughs his way through tales of his triumphs, tragedies and just plain weird experiences while furthering our knowledge of the world.
In Broad's line of work – exploring submerged caves and blue holes – one mistake can prove fatal. He and his team must take every precaution to avoid dangers like stirring up sediments that can wipe out visibility, succumbing to nausea as they pass through a toxic layer of hydrogen sulfide or getting lost in maze-like passageways with a limited supply of diving gasses.
The need to study blue holes is urgent, as they are among the least studied and most threatened habitats on Earth. More than 90 percent of the Earth's unfrozen fresh water is in underground aquifers. These systems are a source of drinking water for locals, boast a unique biodiversity of microbial and multicellular life that shed light on evolution and perfectly preserve skeletal remains of long extinct species and indigenous people. Cave formations such as stalagmites can be used to reconstruct climate as the Earth passed in and out of the ice ages, allowing us to better judge the rates and possible impacts of modern changes in climate.
With their reversing tides, these cave systems can transition from giant rooms to narrow holes that divers must remove all of their gear in order to squeeze through.
"You can't send a remotely operated vehicle in to explore caves because the technology simply doesn't exist," he says. "It's one of the few environments left on the planet where you must physically go to learn about it."
Broad was elected a National Geographic Emerging Explorer in 2006, a Fellow National of the Explorers Club in 2009 and was selected as the 2011 National Geographic Explorer of the Year.
Broad earned his bachelor's in literature from University of California, Santa Barbara. His interdisciplinary training includes a master's in marine affairs and policy from the University of Miami and a doctorate in anthropology from Columbia University. He is currently a professor in the University of Miami's Division of Marine Affairs and Policy and is director of the Abess Center for Ecosystem Science and Policy. He is also a co-director of the Center for Research on Environmental Decisions at Columbia University.
Kenny Broad is presented by UCSB Arts & Lectures.
Tickets are $25 for the general public and $15 for UCSB students and youths (18 & under) (Valid student ID required).
For tickets and more information, call UCSB Arts & Lectures at (805) 893-3535or visit www.ArtsAndLectures.UCSB.edu.

National Geographic Live series sponsored in part by Sheila & Michael Bonsignore.
UCSB Arts & Lectures gratefully acknowledges the generous support of SAGE for its major corporate support of the 2016-17 season.