Environmentally conscious work displayed in the Michele Kuelbs Tower Gallery through February 2024
The Wildling Museum of Art and Nature has announced its new 2023 site-specific installation featuring Northridge-based artist Elizabeth Criss, as well as work by glass artist Sari Scheer.
"Message in a Bottle," designed for the Michele Kuelbs Tower Gallery, is on view starting this month and remaining through February 2024. This long-term installation marks the third iteration of the museum's tower installation program, which aims to highlight Southern California artists inspired by the environment and provides an indoor-outdoor art experience for Solvang visitors.
"'Message in a Bottle' is a lively installation that illustrates the harmful impact of single-use plastics on our oceans," Criss said about her work. "The installation features a dynamic swirl of marine life that celebrates the incredible beauty and diversity of the ocean world, drawing attention to the astonishing richness of our planet's underwater ecosystem. Much of the artwork is constructed with discarded plastics, serving as a poignant reminder of the urgent need to reduce plastic waste and promote environmentally sustainable practices."
Criss is a Los Angeles native, and earned her B.A. in art from California State University, Northridge. Her creative vision explores complex and wondrous aspects of everyday life, with environmental concern for sustainability evident through her use of repurposed materials.
Her artwork has garnered attention from media outlets such as the Los Angeles Times, Daily News, and other print, television, and radio platforms.
The exhibit also includes glasswork from Scheer, a talented post-consumer glass artist who creates unique works from recycled wine bottles and window glass. Motivated by the idea of combining creativity and sustainability, she uses her art to promote environmental awareness and encourage people to rethink their relationship with the planet.
Scheer's artistic process involves repurposing discarded wine bottles into works of art that showcase the versatility and beauty of this often-neglected material.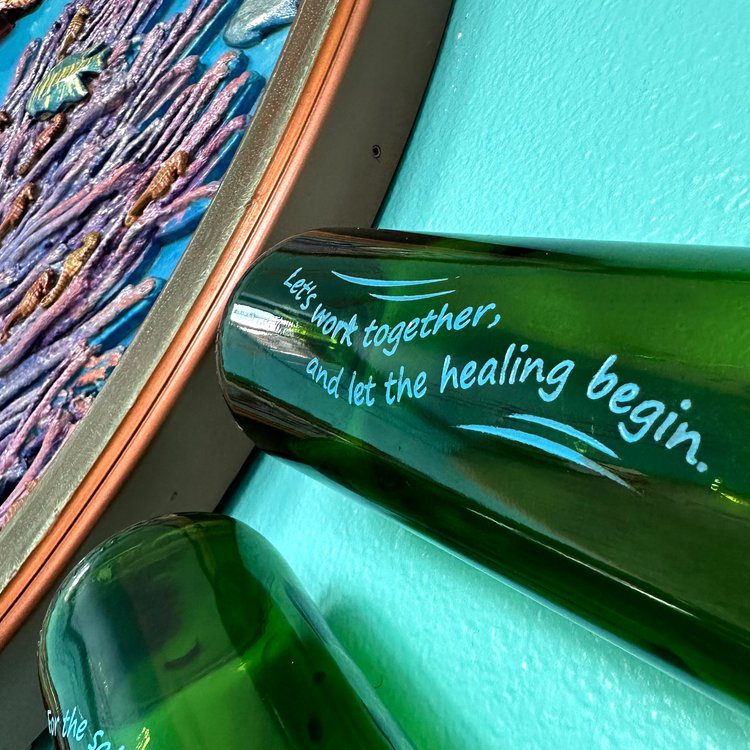 Criss' proposal was selected from the museum's 2023 request for artist proposals focusing on environmental impacts on the ocean.
"We received several strong proposals for the space this year and felt that Elizabeth struck just the right tone with important environmental messaging about the harm of plastics in our oceans while done in a creative and family-friendly way," said Wildling Museum Executive Director Stacey Otte-Demangate. "The installation also has amazing curb appeal from the street at night, so its important message resonates 24/7. We're grateful to Elizabeth, Sari, and their team for all their efforts."
To learn more about the exhibit, go to wildlingmuseum.org/news/message-in-a-bottle. To learn more about Elizabeth Criss and her work, visit facebook.com/ElizabethCrissArtwork. For Scheer's work, go to unwinedglass.com. 
The Wildling Museum is located at 1511-B Mission Drive in Solvang. It is open Monday, Thursday, and Friday from 11 a.m. to 4 p.m., and Saturday and Sunday from 10 a.m. to 5 p.m. It is closed on Tuesdays and Wednesday, and will also be closed on Sunday, May 21.
Feature Image:
"Message in a Bottle," the new installation in the Wildling Museum, hangs in the Michele Kuelbs Tower Gallery. Contributed Photo